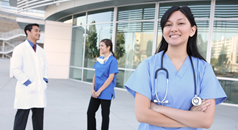 Physical Therapy
Continental Health Care features the services of our skilled physical therapists who have undergone numerous classes and trainings to ensure our clients are kept physically fit and active. At the same time, they will guide our clients every step of the way towards a freer and more mobile lie.
Our physical therapy services include:
Evaluation of patient needs
Therapeutic Exercises
Home Exercise Program
Monitoring of patient progress
Training on the use of special equipment
For more information on our services, you may contact us at (512) 906-1756.